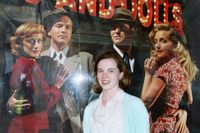 I'm Feeling: a little damp (I just walked back to my office in the rain)
Background Noise: When I Praise by FFH

This was one of my favoritest parts of my trip to Europe - my sister and I got to see Guys and Dolls at the Piccadilly Theatre... and YES, that's Ewan McGregor in the picture with me (okay, it's a picture of him in the picture with me) because we saw him perform live on stage as Sky Masterson! It was sooo much fun - aside from the fact that I love the show in general, the fact that Ewan (and Jane Krakowski - who rocked!) were performing live, feet from me, was just totally fun. I was grinning like the village idiot the entire time. Never wanted it to stop. Plus, we scalped the tickets outside the theatre from two funny women who promised they weren't up to anything "dodgy." I love London.

This weekend we were in Spencerport, NY - a rocking suburb of Rochester - with our good friends Mike and Kristen and their 2 boys. I felt so at home all weekend - it was such a blessing to relax and catch up with people who know you well and love you. I ate a TON of food, played on the trampoline and in the kiddy pool, went to the playground, took a nap, went to Michael's with Kristen, ate more food, read the boys bedtime stories, played Euchre and UNO Attacks... it was such a good time. Minus the 6-7 hour drive it takes to get there... worth every minute.

Academic Orientation (AOP) starts at MSU today - meaning beginning tomorrow morning, the next six weeks will be full of me attempting to get new students class schedules they like, and helping them feel connected to MSU. I'm looking forward to it, actually. I really like talking to new and prospective students, and I think the busy-ness of it will resonate with me. Meanwhile, time to catch up on some of the slightly more mundane office-y tasks (filing, updating students' grades, etc...) Happy rainy Monday!

Thought for the day: I got to eat my first homemade twinkie this weekend (thanks Sarah!), and it was awesome. I don't like regular twinkies, I think they're nasty, but this was delish. Check this out though - makes me laugh.