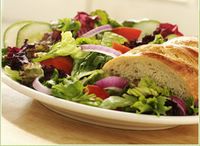 I'm Feeling: on top of things
Background Noise: Jesus, Lover of My Soul by ZOEgirl

I just got back from lunch at Panera with Dana - I had a salad (not the one pictured - that one has onions on it - YUCK!). The salad was delicious and my company extremely entertaining. It's been awhile since Dana and I have hung out together, and I thoroughly enjoyed myself. I think I was talking too much to eat all of my salad, but that's an OK problem to have in my book.

On a completely unrelated note - have you ever noticed that there are some people it is easy to have tough conversations with, and some people where it's not? I think it depends on lots of things - how close you are, your personality, his/her personality, the issue at hand... but there are certain tough conversations that I'd rather stick something sharp in my eye than have. Maybe I'm just a wimp. Maybe I don't like confrontation (at least not with certain people). Any tips on having tough conversations?